KAPTON COVERED / INSULATED ROUND & RECTANGULAR /FLAT COPPER WIRE

Kapton® in KAPTON COVERED ROUND & RECTANGULAR /FLAT COPPER WIRE is the condensation product of an aromatic tetra basic acid and an aromatic diamine. It has no melting point, is infusible and self-extinguishing (does not support combustion).

Kapton® (Brand Name of DuPont's Polymide Film) Covered Wires offers a wide range of applications in the construction of motors (specially in traction motors), aerospace equipments. It provides insulation with high electrical, thermal and mechanical properties over a temperature range of -196°C to +250°C. It provides higher Break Down Voltage (more than 8 KV BDV) as well as Temperature Class (220 °C) as compare with other insulated conductors. Insulating materials in traction motors have to withstand high temperatures and frequent changes of load and temperature. Standard materials applied for conductor insulation in Traction Motor application is polyimide film. It has excellent chemical resistance; there are no known organic solvents for the film. Kapton does not melt or burn as it has the highest flammability rating. The outstanding properties of Kapton permit it to be used at both high and low temperature extremes where other organic polymeric materials would not be functional. Kapton gives conductors space saving, which ultimately yields more power without increasing motor size. Kapton provides exceptional overload protection and long motor life, even in the most demanding applications and environments.

Manufacturing Range & Specification
Temp. Class
Type of Insulation
Size Range
220oC
Kapton / Apical
(Polymide Film)
(50%, 66% Overlapping)
Round Wire: 2 to 4 mm
Flat Wire: 5 - 50 sq. mm
Min. Size: 3.3 x 1.5 mm
Max. Size: 12 x 4.2 mm
BARE / INSULATED COPPER & ALUMINIUM WIRES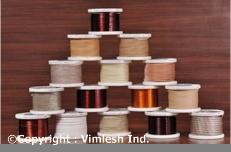 All our products are manufactured as per International Standards and Specifications given by the customer .We offer a selection of dimensions, types of covering and materials for special fields of application.

We use latest technology to manufacture our products. Wires & Strips are manufactured by continuous extrusion machine which ensures bright annealed material free from any dust or surface defect which is most suitable for further insulation.
"Kapton Insulated Copper Conductor, Kapton Insulated Copper Wire, Kapton Insulated Copper Strip, Kapton Covered Wire, Kapton Insulated Flat Wire, Kapton Covered Flat Copper Wire, Kapton Covered Copper Strip, Kapton Covered Copper Wire, Kapton Insulated Wires, Kapton Insulated Rectangular Wire, Kapton Insulated Strip, Kapton Covered Strip"